A Performing Arts Dance Training Institute in DUBAI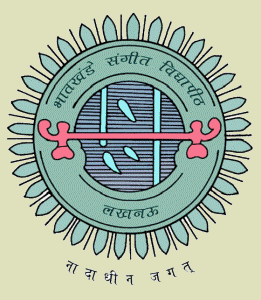 Dance Institute Affiliated with
Bhatkhande Sangit Vidyapith
​
Guru Nitesh training his students the intricacies of dance.
KATHAK EDUCATION
FROM A PROLIFIC GURU
Join our professional certificate training and education programs in Kathak all levels and ages
KATHAK
TRAINING PROGRAMS
The term Kathak is derived from the Vedic Sanskrit word Katha meaning "story", and kathaka in Sanskrit means "he who tells a story", or "to do with stories". Wandering Kathakas communicated stories from the great epics and ancient mythology through dance, songs and music in a manner similar to early Greek theatre. Our Kathak style is instructed by Mr. Nitesh Saraswat who is a well proclaimed artist, choreographer and a finest guru hailing from linage of great artists from Lucknow gharana.
​
KATHAK EDUCATION TRACK
The track follows the formal syllabus of Bhatkhande Sangeet Vidyapeeth with structured pro level training in Kathak - Lucknowi gharana with yearly exams & certificate to passed students.
​
KATHAK TRAINING TRACK
This track is for the Kathak enthusiasts who are passionate to get trained in Kathak dance with max flexibility, adaptability and without following a formal exam route.
​
SYLLABUS - BHATKHANDE SANGEET VIDYAPEETH, LUCKNOW GHARANA
FOR ALL LEVELS & AGE GROUPS
SEPARATE BATCHES FOR KIDS & ADULTS
Performer · Educator · Kathak Guru
I grew up in Lucknow, India. A world famous gharana for Kathak popular for its graceful and sensual elements. At an early age I Joined the coveted Bhatkhande musical university to learn Kathak under a conventional 'guru-shishya' paramapara. I have performed as a Kathak artist and dance choreographer in large number of prestigious cultural events, national level shows while working alongside as a dance teacher in premier schools and dance institutes.
Most of my ideas are based on Indian mythological stories, I work on to narrate characters with dance, music and mime the storytellers of ancient India that would bring to life the great scriptures like the Mahabharata and the Ramayana as well as the Puranas of Sanskrit literature. My emphasis is on dramatic dance movement and sensuous expression of poetry in motion.
Personal Quote
I do not spend myself on anything barring the dance.
Kathak is dancing art to exalt and to elevate, it is a presentation of poetry though one's soul.
Professional Summary
Nitesh Saraswat is a rising performer, guru and choreographer in the field of Kathak Dance. He has taken proper training of Kathak Dance under the tutelage of her Guru Dr.Ruchi Khare in Bhatkhande Music Institute Deemed University Lucknow. Nitesh has also taken training of Indian Folk Dances from Bhatkhande Music Institute Deemed University. Thereafter He has worked as performer cum Instructor vishvneer institute(2010-2011),Fantasies Dance Centre and Delhi Public School (2011-2012) and Dubai (Jan 2013-Jun 2016) Nitesh has performed widely in India, UAE and Middle east . He has earned lot of fame and repute as Dance Guru and Choreographer in Lucknow as well as U.A.E. Nitesh has to his credit many coveted & heartwarming performances. He is at present the artistic director of Nrityanjali Dance Company, Dubai.
My dancing style represents Kathak from Lucknow gharana, I also bring forth to fuse styles from other Indian classical dance arts, folk dances and cotemporary styles of modern dances.
​
​
My interests and passion includes dancing, choreography, interiors decoration, abhinay and dance performances.
​
​
The thing that's cool about Kathak is brings into you a positive energy and confidence, elevates your mood and gets you happy. There is no age to learn Kathak and perform it.
​
​
My students have diverse range of goals while learning Kathak dance, most of them come without any prior experience in dancing, some want to become professional grade artists, while for others it is a meaningful activity and a skill to learn while doing away from daily chores of life.
What my students say about me
My poojya guru Shri Nitesh Saraswat is such a humble and down to earth person. His passion, sincerity and dedication to Kathak is beyond words. Im so blessed to have him as my guru. His teaching style is so simple and friendly that makes it so easy for me to understand and follow. He explains every technical movement in detail that we can never go wrong. While teaching the Abhinaya part of kathak, he narrates the story behind the song elaborately that I can understand it well and demonstrate it with ease. He is truly a very simple human being.
Nitesh ji is one of the best teacher i have ever had .He really works hard with every student of all ages .He is very hardworking and dedicated towards his students. He always encourages them to learn more.